Whether you live in the area or travel here for work or leisure, are riding with a group, or individually, you will love our 1⁄2 day and full day tours and excursions. They are truly "nano" adventures which will take you miles away from your day-to-day routine.
If you have a bit more time and can spend 2 or 3 days on your bike, consider one of our micro adventures.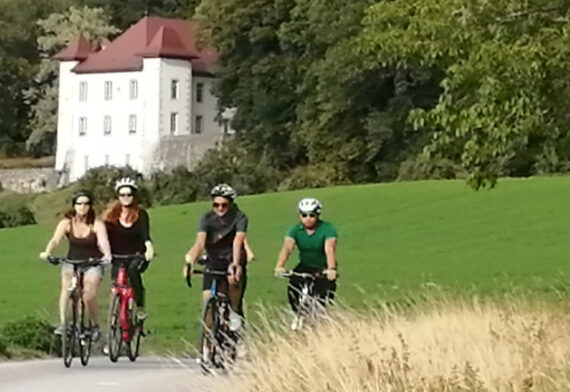 Panoramic sunset over Geneva and Lake Geneva
An after work excursion from Geneva or Annemasse that combines 3 means of transportation (cycling, cable car, and hiking) to reach the Salève mountain. Once there, enjoy the sunset over Geneva and Lake Geneva before a dinner.
Lake Geneva and the medieval village of Yvoire
This day excursion begins in Annemasse or Geneva. The safe and secure route follows bikeways, cycle paths and minor roads to the town of Nyon from where you will board a cross-border boat to the village of Yvoire, one of the prettiest villages in France.
Bike adventure in the Monts de Genève, between the Arve and the Salève
In the space of a few hours, experience an off-the-beaten-track adventure in both France and Switzerland at the foot of the Salève, the iconic Genevois mountain.
You will follow the Arve river towards the Swiss border, passing vineyards, orchards and farmland before attacking the slopes of the Salève and discovering the unspoilt natural surroundings of our region following tracks and paths to La Chartreuse de Pomier.
Custom excursion for groups
Simply let us know what your "ideal" day tour is and we'll cook up the perfect excursion for your family, friends, or business associates…
Popular themes for bike day tours include visits of wineries, local producers, chocolate makers, etc…

As part of your bike excursion, we can arrange transfers, dinners, lunches, museum entries, etc…