If your time schedule allows it, for a true sense of achievement, doing one of our multi day tours is what cycling is all about: starting in one place and ending in another. In between, you're bound to discover a wide variety of different terrains, cities, villages… and most importantly, learn things about yourself.

For shorter tours, you may want to consider one of our micro adventures. 
Region: Geneva / Lake Geneva
Come and experience the magic that Switzerland has to offer! Cycling from Geneva to Montreux, metropolitan hub to musical wonderland, your ride will be filled with beautiful views of Europe's second-largest freshwater lake, and of course, plenty of delicious Swiss chocolate. You will be treated to varying landscapes: bodies of water, mountain slopes, and man-made architecture, including Lausanne's International Olympic Committee headquarters—where you'll feel right at home with many other cyclists.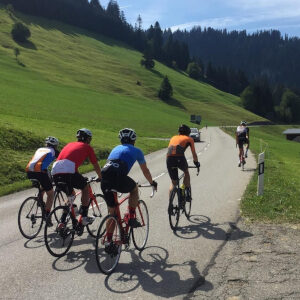 Region: Geneva / French Alps
One of our most challenging multi day tours, this award-winning Alpe d'Huez cycling tour (one of our favorites) takes place in our playground — we're based right across the border from Geneva, in France!
Our extraordinary journey will take you from the shores of Lake Geneva to the world-famous alpine resort of Alpe d'Huez. In between, you'll climb some of France's most famous cols: Colombiere, Aravis, Saisies, Madeleine, Telegraphe, Galibier, and Alpe d'Huez.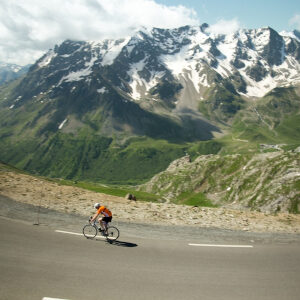 Geneva to Annecy: Famous Climbs and Lesser-Known Passes

Here's a seriously beautiful tour for serious cyclists! This tour links three of Europe's most magical lakes: Geneva, Bourget and Annecy. Follow in the tracks of your Tour de France heroes as you cycle thrilling mountain passes, take in stunning panoramas, and pass through picturesque Alpine villages along the most unforgettable cycling climbs around Geneva.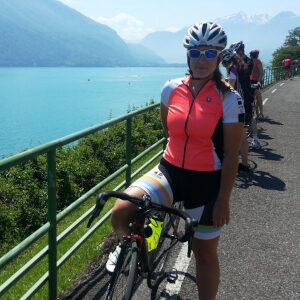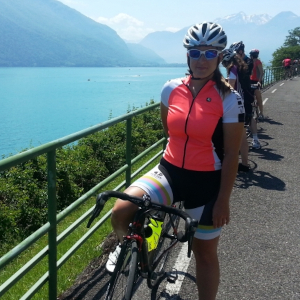 Linking Lakes and Cultures: Geneva to Interlaken
Region: Geneva / Switzerland
Experience the essence of Switzerland on one of our multi day tours in Switzerland, from the French to the German- speaking regions.
You'll pedal through noted vineyards and famous cheese-producing villages, tour medieval castles and visit Gothic cathedrals. You'll look up at towering mountain peaks and down upon shimmering alpine lakes.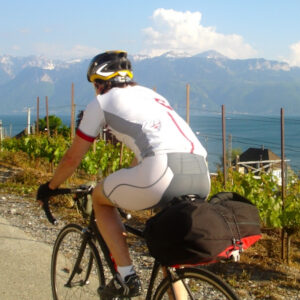 The Upper French Alps: Geneva to Geneva

Region: Geneva / French Alps
You'll be riding in what we affectionately call "our playground," since we cycle these roads regularly. Believe us; you'll be mesmerized by the scenery! With Lake Geneva and Mont-Blanc as a backdrop, your daily rides snake through the Chablais mountainous area and skirt the southern shore of Lake Geneva, one of the few spots in the world that can cause blisters from excessive photo taking. Finally, on your last day, you'll cross the lake at Yvoire—an impossibly photogenic medieval village that extends into the lake on a striking peninsula—and ride through the Swiss Jura.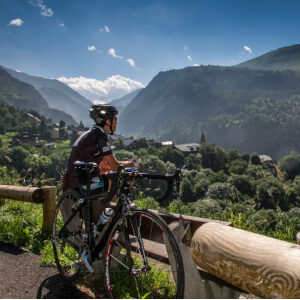 Three Lake Cycling: Geneva, Bourget, & Annecy
Region: Geneva / French Alps

This unique Alpine tour makes it possible for leisurely riders to experience the captivating cycling routes of the Alps without the hassle of hills. Linking the three major lakes of the area (Lake Geneva, Lake Bourget, and Lake Annecy), the cycling routes essentially follow river paths along the Rhône and Isère rivers, taking in historic villages, stunning natural scenery, lush meadows and valleys, and picturesque peaks along the way.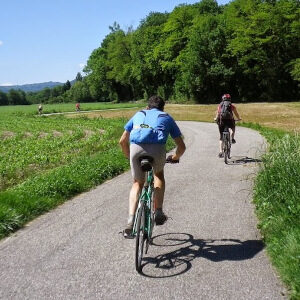 Via Rhona: Geneva to Lyon in 6 days
Region: Geneva / French Alps

Ancient navigators first spurred the development of the Rhône river valley, bringing new ideas to a quiet region of fierce natural beauty. Over the centuries, some communities along its banks grew rapidly — into sophisticated cities like Lyon and Geneva, who still attract visitors in droves — while others never quite progressed beyond sleepy little outposts. Today, traffic is diverted to highways and railways, leaving the riverbanks in peace and quiet… for cyclists! This allows you to enjoy one of our best self-guided cycling trips from Switzerland to France!