Travel is a state of mind. No need to travel far to find adventure. Over 2 or 3 days, our micro adventures will take you miles away… For longer vacations, check our multi-day tours.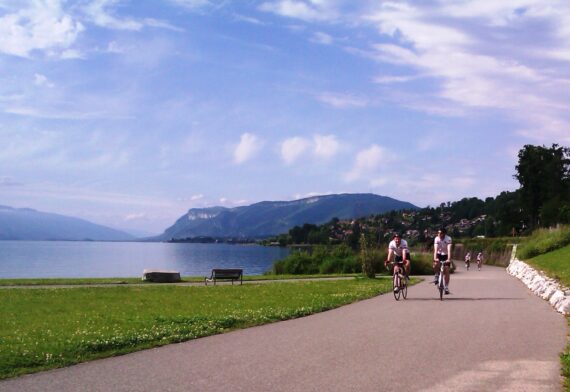 A Short Escape from Geneva
The heart of Geneva is, of course, the lake. The pretty Swiss architecture provides a mid-ground backdrop, and the regal mountains simply elevate the majesty of this sophisticated city. But don't let the towering height of the mountains scare you! You'll be riding on less-challenging terrain, at a leisurely pace you'll determine on your own.
Rivers, Lakes, and Mountains: Geneva to Geneva via Annecy
Ride your bike while gliding into the wintry panorama of the Swiss Alps on this cycling trip from Geneva to Annecy. On this tour, you will be given the opportunity to take a peek at two contrasting worlds: Switzerland's famously international city, and the picturesque, old town of Annecy.
The Adventure Nextdoor: Gravel grind your way from Geneva to Aix-les-Bains
Somewhere between road cycling and mountain biking, gravel cycling is the ultimate in flexible riding. It has really taken off over the past few years and the Savoy region has some brilliant routes. If you want to enjoy some of the best scenery the area has to offer whilst riding these gravel trails then this is the tour for you!