When riding between Saconnex d'Arve and Landecy, just before arriving into Landecy, you will notice a house on your left which is hard to miss…an array of lamps sit outside with a clock and a postcard rack. You are in front of Jean-Philippe Naeff's workshop, who specialises in the restoration of antiques.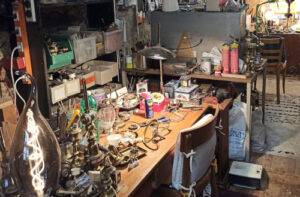 Inside it is truly like a small museum. You will find an impressive collection of lamps… some restored, others renovated to suit modern tastes. A number of the lamps are extraordinary, such as the lamps used by clockmakers in the 19th century or candle holders for boats.
Rather than going into too much detail in this post, take the time to stop here the next time you are nearby. Not only is the route to get there magnificent, but perhaps you will find the antique you have been dreaming of in Jean-Philippe's workshop!
To get there, if you need a rental bike (electric, hybrid or gravel bike) then look no further! It is worth noting as well that several of our bike excursions pass very close by.