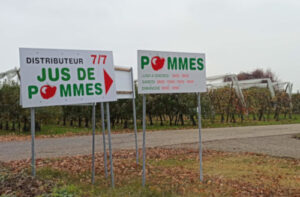 Like all the best things in life, one may wish to keep them just for themselves… but keeping such a secret wouldn't be right!
Going to the Arare Orchard (le verger d'Arare) is brilliant, for the apples of course, but also because it is ideally located for discovering lots of nearby places, riding along quiet roads with the Salève in the background… Close by, it is possible to ride a short loop via Compesières (where there is a beautiful viewpoint known as "le panorama du repos" (the panorama of rest), Landecy, Croix de Rozon, Saconnex d'Arve… In Saconnex d'Arve, it is even possible to restock on beer at the Brasserie du Virage.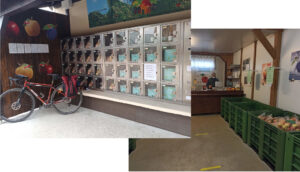 In any case, the Arare Orchard is one of our favourite options for stocking up on apples. Even though the shop itself has limited opening times, it is possible to go whenever thanks to the 24/7 automatic distributor. Make sure to bring panniers as the apples are sold by 5kg bags.
As well as the different varieties on offer (our favourite is the "Topaz"), you can also buy apple juice and pears, as well as other products linked to the orchard.
The route that we have outlined for you is magnificent…at first you will follow the Arve river, passing through Carouge before crossing the Drize and continuing on towards Saconnex d'Arve. The riding is mainly on small roads and the scenery is spectacular.
If you need a bike rental (electric, hybrid or gravel) in order to get there, then look no further! It is worth bearing in mind as well that a number of our bike excursions pass close by to here too.