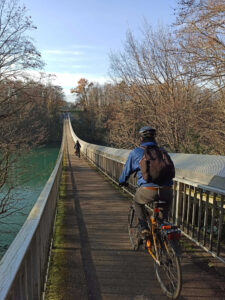 Geneva is a city of water, with its lake, the Rhône, the Arve and their tributaries: the Drize, the Foron, the Seymax, the Aire, the Versoix and the Allondon, to name but a few.
In this blogpost, we will cover some of the bridges, footbridges and viewpoints that we love…
The Lignon footbridge, which stretches over the Rhône, links the Lignon neighbourhood with Loëx. You can access it by following a path suitable for hybrid, mountain or gravel bikes. The views are magnificent! It is a great and picturesque route to escape the city if you are heading towards Vernier, or further on to Satigny.
To reach the footbridge from the centre of Geneva, follow our route
If you need to rent a bike (hybrid or gravel), then look no further!